---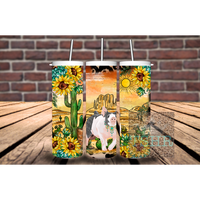 Introducing our newest Desert Diva--the PIG!  Sunflowers, cactus, and turquoise----doesn't get much better than that.
A 20 oz. stainless steel hot/cold tumbler.  Comes with lid to use with or without a straw.  Straw is included.  DO NOT wash in dishwasher, hand wash only.
These are made by TSHR right here in Howe, Texas. 
Currently 1 is Ready to Ship.