---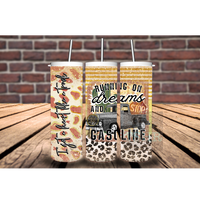 We love this song here at the Ranch, so much that it's usually on Repeat!  And this is just the perfect design to go along with it!
20 oz. stainless steel hot/cold tumbler, comes with lid and straw. Made here in Texas when you place your order.  Please allow 7-10 business days for shipping. (We're usually much faster than that, but please be gracious).
HAND WASH ONLY, no dishwasher or soaking.