---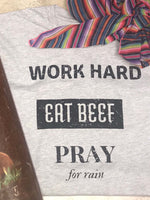 We sold out of the Red shirt in a hot minute......so we decided to change things up a little and try a Next Level Heather Gray with Black Graphics......let's just say it's a definite WINNER!!
WORK HARD   EAT BEEF    PRAY FOR RAIN.  This is a great tee for guys & gals.  Gals can wear as is or imagine it with a cut neckline, wild rag & denim jacket!!  AWESOMENESS!!
Unisex sizing available in S-2X.